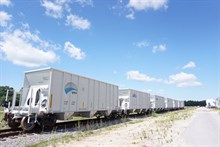 Stone, sand and other construction materials are helping to build new orders for railcar manufacturers.



BY STUART CHIRLS, SENIOR EDITOR
Increasing shipments of industrial products—and a dollop of favorable indicators—are spurring orders for new railcars as builders and component suppliers see interest in covered and open hoppers, mill gondolas, boxcars and other car types offering reasons for optimism in a resurgent market.
Prices for scrap metal, a bellwether indicator for carbuilders, have improved 10-15% from earlier this year even though the biggest buyers, China and India, are sitting on tens of thousands of tons of excess steel-making capacity and have yet to participate vigorously in the market. That's helped keep older cars and cars on lease rolling. The second-quarter car order backlog grew 10% quarter-to-quarter, and while deliveries only improved modestly, new orders rocketed 250% to 17,650 units,the best quarterly showing in two years, according to the 2Q report of the Railway Supply Institute American Railway Car Institute (ARCI) Committee. Replacement demand is penciled in at more than 43,000 cars in 2017, the strongest level in more than a decade.
Among industrial commodities, fracking sand, in particular, is "still crazy," accord- ing to Robert Pickel, Senior Vice President of Marketing and Sales for National Steel Car, headquartered in Hamilton, Ontario. "You would think that fracking [the process of injecting liquid and sand at high pressure into wells to extract natural gas and petro- leum] would have taken a bigger hit since the [petroleum] market collapsed several years ago," Pickel says.
But technology has improved, and drill- ers are using twice as much sand today—as much as 3,000 pounds per linear yard of well, up from 1,500 pounds a few years ago—and the demand has until recently been off the charts. Says Pickel, "They can't get it fast enough, and not just the high- quality white sand from Wisconsin, but
sand from mines in Texas and Oklahoma. People were looking to get it to the wells any way they could, by unit train or by truck and barge."
NSC markets its 3,280-cubic-foot-capac- ity (cf) covered hopper for frac sand trans- port, the same-capacity car hauling cement, another improving commodity.
"That category has been strong, mostly for big construction and infrastructure projects," Pickel says. Cement has also helped boost NSC's business opportuni- ties in pressure differential cars that utilize regulated air for unloading of dry products, in 3,230cf capacity.
Infrastructure projects, Pickel says, are also producing "very high demand" for open-top hoppers and gondolas to haul aggregate, broadly defined as sand, gravel, crushed stone, slag, recycled crushed concrete or geosynthetic material, widely used in drainage applications, and as a base material for foundations, highways, and yes, railroads. Aggregates are the most- mined materials in the world, and because they tend to be dense and heavy, ship in smaller-capacity cars. NSC is currently looking to start a production line for aggre- gate cars, including a small-cube, 2,400cf, 45-foot open-top hopper, and a 2,500cf, 42- to 45-foot gondola.

Plastic pellets, grain and fertilizer are driving NSC's production of larger-capac- ity covered hoppers. The class as a whole accounts for more than 60% of the builder's current production.

Drillers use twice as much sand today as a few years ago, and demand is now off the charts.

"That's one plant and five lines," Pickel says. "While some of that comes out of our backlog, there are other orders being pulled forward, and the market can expect more deliveries. Buyers are careful, though, because at $90,000 to $95,000 each [with load-specific interiors], a plastic pellet car is expensive storage space. They want to make sure they will get four to six turns per car per month. And since scrap prices for some car types aren't high enough to drive demand for new cars, lease renewals are high, even for older cars. Car velocity is down as railroads run longer, fewer trains, so the railroads need more equipment. That's good for builders."
The lively aggregate market also led Port- land, Ore.-based Greenbrier Companies in late July to roll out the all-new Dura-Max 2,400cf, 45-foot open-top hopper. Green- brier is also putting the finishing touches on a new design for an aggregate gondola, with a light weight of 51,000 pounds and a load limit of 235,000 pounds.
"Aggregate service can be really tough on a car, and our main design enhance- ments have focused on building a sturdier car that will spend more time on the rails, and less time in the repair shop," says James Link, Manager of Strategic Marketing. The builder worked with large aggregate ship- pers to optimize loading and unloading performance, to increase the cars' produc- tivity and reduce turn times.
Greenbrier is "actively participating" in the plastic pellet market, Link says, where
utilization of high-cube covered hoppers is among the highest in railroading. A wave of new petrochemical projects, a positive long-term outlook for resin shipments and a "healthy number" of car retirements in the coming years support expected steady growth. Greenbrier is taking a strategic approach to sand and cement, to manage the volatility of the energy markets. With an industry-wide backlog of 19,300 cars, according to the ARCI report, few deliver- ies in 2Q and increasing adoption of locally sourced sand from the Permian Basin in Texas, the company wants to mitigate risk.
"What we need to see—what all build- ers need to see—are healthy railroads and vibrant commodity carloads," says Theo- dore Baun, Chief Commercial Officer of FreightCar America, Chicago. "The indus- try backlog of car orders peaked at the end of 2014 at more than 140,000 units. While there is growth in some segments, and pockets of demand, we were forced to idle some manufacturing plants. You have to be prudent and not engage in overbuilding through a down cycle."
Again, the demand for aggregate product has led to orders for FCA's VersaFlood hopper, which incorporates a compos- ite steel/aluminum carbody. The 2,430cf, 41-foot car features the patented MegaFlo transverse door system, allowing the opera- tor to unload any or all three hopper pockets, to accommodate customer facilities.
Shippers of sand, cement and roofing granules have helped sales of FCA's small- cube, 3,283cf covered hopper, which features a proprietary one-piece center sill for a competitive car light weight. One year ago, industry estimates had as many as 40,000 sand cars in storage. That's down to a relatively small number, to the point where FCA has begun to selectively quote prices for new car construction.
Showing similar potential is FCA's Plate F, 60-foot, 286,000-pound-capacity boxcar. The dry-lading, double-plug-door car built for several customers has been a strong seller since 2015. "Of the 110,000 boxcars in the North American fleet, roughly half are 35 years old and older, meaning pressure to replace the aging fleet should continue," Baun says. Pellet cars, which FCA added to its portfolio a couple of years ago, are offered in 5,800cf and 6,250cf capacities.
The construction market is also generating orders for Vertex Railcar Corp., based in Wilmington, N.C. Now in production is its small-cube, 2,430cf open-top aggregate hopper, which is just over 45 feet long with a gross rail load of 286,000 pounds. The car features a patented automatic longitu- dinal door system, in single- or multiple- door versions.
"Along with aggregate, there has been a constant call for sand cars, as well as cars to haul wood chips and pellets, plastic pellets and grain," says Vertex Chief Executive Officer Donald Croteau. Vertex offers open- top and covered hoppers in several capaci- ties; mill and other gondolas, and flatcars.
Aggregate is tough on cars, and "buyers want cars built incrementally heavier where light weight is concerned," Croteau says. "That means thicker side walls, thicker flooring and stronger gussets, so the cars have a longer life." Vertex is also using copper-containing steel, which costs 10-12 cents more per pound but extends the life of the car.
"Railroads have changed from an indus- try-based business to one that is finan- cially based," says Croteau. "Logistics fees attached to freight car operations—inter- change, switching—are part of the builder's pricing challenge. The business is customer- driven, so they ask for what they want."


Anticipating customers' needs are part of the freight car component supplier's busi- ness plan. "Standard products like draft gears, side bearings and brake beams have less to do with the specific lading, and more to do with the operational performance of the railcar," says William O'Donnell, Exec- utive Director of Global Sales, Miner Ente- prises, Geneva, Ill. "Of course, some lading requires specific protection, but in most cases these standard products can be used across car types. Our focus is on having a validated proven design, with ample capac- ity to meet peak demand.
"With industrial products like frac sand, Miner has to understand our shipper- customer needs in some way better than [the carbuilders] do. This requires broad- based interaction with the carbuilder, car owner, shipper and unloader well in advance of any 'boom' in the market. We have at least four different slide gate designs ready for application for sand unloading."
In the sand category, Miner's new AutoLOK™ II 15-inch x 48-inch outlet gate bolts to standard 13x42 hopper flanges. A 7.35-inch, low-profile design is well-suited to sand service, while the opening matches a cement unloading boot, so a single car can easily switch between commodities, for maximum operator flexibility.


To read the article in the digtal version of the Railway Age magazine click this link